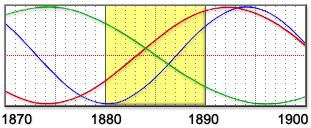 1880s: Changing Energies
brought changing times. Every Cycle Crossed Over in one direction or the other in the 1880s. The decade began with a
Physical Low
and Congress Forbid Fencing by Cattle and Railroad Companies. A
Physical 4th Qtr. of Alternatives Progressivism ∓ Experimentation
, the Progressive Movement formed in industry and a group of liberal Republicans known as "Mugwumps" Searched for an Alternative Political Machine. During the
Physical Upward Crossover
fishing disputes with Canada brought some talk of war. A
Physical High
followed and Business saw a Railroad and Construction Peak in the latter 1880s. With a
Physical 1st Qtr. of Foundation & Precedents
, the Scottish game of Golf Organized in the US (1888), the First all American Football team formed (1889), Basketball was Invented (1891) and the First US Hockey League Formed (1892). Another rise produced the Emotional Upward Crossover of 1883-84. Severe riots in Cincinnati turned the city into chaos over issues of injustice. Police and state militia were called but could not contain armed and dangerous rioters for six days. Afterwards, in an
Emotional High
, advancements for women reflected in publications like "Ladies Home Journal" and "Cosmopolitan" that both began in the
1st Qtr.
The
Intellectual Cycle
ended a
High
with an
Intellectual Downward Crossover
of 1885-86. The Knights of Labor Launched a Strike against the Railroads and more than 9,000 strikers blocked off about 5,000 miles of track. This came a year when more than 600,000 strikers went out across the nation and damage exceeded $33 1/2 million dollars. An
Intellectual 3rd Qtr. of Review & Reform
followed and the First Anti-Trust Laws appeared in a dozen states (1889 -1891). Congress Passes the Sherman Anti-Trust Act (1890). The decade began with a
Physo

-

Emotional

Low
and
Intellectual High
, then ended with a
Physo

-

Emotional High
and
Intellectual Low
.