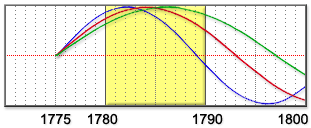 1780s: Foundations
of the nation came as all three Cycles rose in
1st Qtr. Foundation
and reached their peaks in the 1780s.
Articles of Confederation and Perpetual Union
were ratified in 1781.
The Bank of North America Was Established
in 1781 as well. European nations, including Britain, recognized American Independence the following year.
Departments of State, War and Treasury were Set Up
in 1789 and
the Federalist Party Formed.
Our Judiciary emerged as
the Supreme Court was Created
in 1789 along with lower courts.
Steam Power Mechanized America
during the decade with the multi-tubular steam engine, the non-condensing steam engine, and the steamboat. States joined the Union and the Northwest Territory was earmarked for new states. After each Cycle Peaked in the 1780s, they entered the
2nd Qtr. of Improvement
.
Shipping Routes Extended to China
in 1784 and
Expanded Stage Coach Routes
connected key cities in 1785.
The Constitution Expanded
upon and improved the Articles of Confederation in 1787. New York City became our first capital in 1789 while plans were made for a new federal site on land ceded by Maryland and
Washington, D.C. Became Our Second Capital
. Our first Crossover came as the
Physical Cycle

Crossed Down
in 1789. It was the end of our first Physical High and the beginning of a
Physical 3rd Qtr. of Reform
. Anti-Federalist laborers organized this year to form the New York Society of St. Tammany. The
Anti-Federalists Opposed George Washington
and his ruling party.